Tiger Technology Spaces MAM
Media Asset Management for remote Collaborative workflows
Add fully-featured web-based media management to your Tiger Spaces project workflows with Spaces MAM
Overview
Spaces|MAM is part of the Tiger Spaces software suite and provides an advanced tool to handle ingest, metadata, logging, search, viewing, editing, and transcoding of media assets from a Tiger Spaces managed virtual workspace. Spaces|MAM has been developed from the ground up as an open architecture to meet the needs of broadcasters and video content producers. The core idea behind Spaces|MAM is to allow content producers to spend less time locating material or managing their users and storage and focus on production.
Manage your media content regardless of where you are

The Spaces|MAM integration with Tiger Spaces controls the media flow, project definition and all metadata throughout the entire production. Via its web interface, users can search, browse, upload & download, and perform any actions allowed by their profile even without accessing the local storage directly. Spaces|MAM has an integrated player window that allows operators to preview any content, add in/out marks, leave comments, etc.

Multi-site access for full content management, transcoding & editing

Spaces|MAM has a built-in web editor which allows you to fully edit your media for news, sport, or social
media. It also enables live web stream editing and publishing content to multiple platforms in various formats from within the browser.

Handle assets and associated metadata from a unified web interface

Spaces|MAM uses an SQL database to keep track of information about media files, associations between
media files (multiple resolutions of the same media), metadata, user management and project organization.
Spaces|MAM is fully integrated with the Tiger Spaces project and user management software. It uses the exact same user permissions and log-in details as Tiger Spaces.
Any media created or uploaded into Tiger Spaces is accessible via the MAM and will have a frame-accurate proxy generated. Any changes made in Tiger Spaces are automatically reflected in the MAM and vice versa.
| | |
| --- | --- |
| Third-party solutions compatibility | Dalet Newsroom, Octopus Newsroom, Grass Valley workflow, Harmonic playout servers, Vizrt, Aveco automation, Avid editors, Adobe Editors, XenData, Chyro traffic solution, Insync.tv, Youtube |
| Supported video codecs (not exhaustive) | AVC-Intra, AVCHD, Canon XF MPEG2, Digital SLR, DVCAM, DVCPRO50, DVCPROHD, DPX, HDV, XDCAM EX, XDCAM HD, XDCAM HD422, Sony XAVC, Sony RAW, Avid DNxHD, VC-3, Apple ProRes, QuickTime, Uncompressed 8-bit 4:2:2,  ncompressed 10-bit 4:2:2, MJPEG, JPEG2000, MPEG2/1, H264, HEVC |
Product Highlights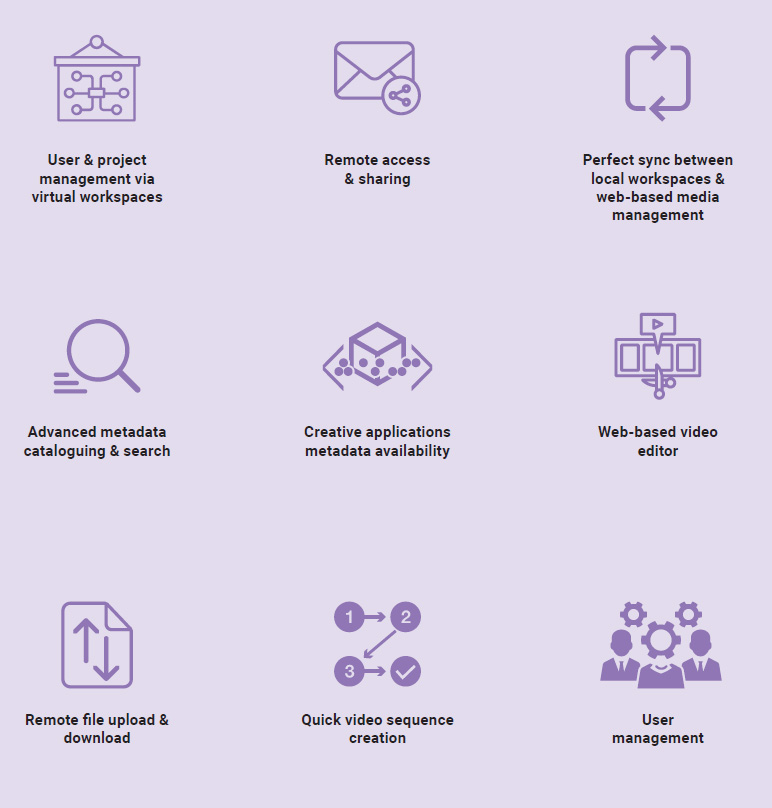 Key Features & Benefits
Tiger Spaces: Centralized User & Project Management
Public/private virtual workspaces – collaborate with others or work privately
Role-based functionality – administrators, and users
Sharing permissions – control project and media access
Volume-level locking (single-user write, multi-user read)
Single log-in for all assigned project workspaces
Template creation – create new projects from scratch or use templates
Activity log, monitoring
Spaces|MAM: Editing
Editing from the web interface with graphics support
DVE, Audio Mixer and full graphics support on web edit
Multiple timeline support; adding multiple video, graphics and audio layers on web edit timeline
Audio gain per clip or timeline
Direct export of story with different aspect ratios and/or format for NLE
Full subtitles support on timeline, creation, import and export
Generation of multi-format, multipurpose files for delivery to multiple platforms (broadcast, Internet, mobile, etc.)
Clip creation to highlight interesting sections
Spaces|MAM: Remote Access
Full media and asset exchange with 3rd-party systems (Playout, CMS, social media, OTT, etc.)
Sharing secure media links via email for review (even if no access to the storage)
Export to AAF and FCP XML of media, clips or entire projects
Capability to upload a variety of codecs including, camera raw, editorial (MXF, DNxHD, etc.), and file formats (.pdf, .doc, .txt, etc.)
Capability for specific users (based on defined role and permissions) to download and upload media to the system from local and/ or remote locations and assign metadata
Spaces|MAM* Minimum System Requirements
Tiger Spaces is a requirement
PC with 2.5-GHz 64-bit (x64) processor
8GB of physical RAM at least
500MB of available hard-disk space for installation
64-bit Microsoft Windows® 7 SP 1/Server 2008 R2 SP1/Windows® 8/Server 2012/Server 2012 R2/Windows® 10/Server 2016/Server 2019
*MAM component developed by IMC Technologies
Tiger Spaces Clients
MacOS
Windows
Linux (contact sales for details)