Accusys Gamma Carry
Gamma Carry is fully compatible with M1 Mac. Click here for step-by-step driver installation instruction. Gamma Carry supports the latest macOS Big Sur, detailed driver installation instruction can be found here.
Gamma Carry
The Portable Thunderbolt 3 Storage Designed for DIT and Post-production
Carry

Your Studio Is Where You Are

Gamma Carry is easily portable. You can either take it by its handle bar or put it in the pelican case.

Being the world's smallest 3.5" 8-bay RAID system, you can easily take it anywhere you go by its handle bar.
The Toughest Ever

The original Gamma Carry packaging materials are compatible with Pelican 1510 Protector Carry-On Case. Hand carry it or check it in when you need to fly. Pelican Case meets most of the airline hand-carry luggage regulations.

In the mechanical shock test, when put in pelican case with EPE (Expandable Polyethylene), Gamma Carry is able to take 250G/2ms (250 gravitational acceleration per 2 milliseconds ) without HDD being damaged. From now on, you don't have to remove the hard disks before you set out.
LED on/off Function

*Patent Technology

No More Distraction

When working in a dark room, instead of taping up the LED lights that gleam and break your concentration, you can now simply press a button to turn the lights off.
HDD Locked & Positioning Pin

*Patent Technology

Lock Your Disks, Secure Your Data

The newly designed disk tray positioning pin can reduce risk of damage to the disks and backplane caused by shock or vibration during transportation. With the thumb screw, locking up HDD has never been easier.
Part Modules Available

Be Your Own Technician

Cooling fan stops cooling the system when the editing is in full swing? Power module stops powering your storage when you are out in the middle of nowhere?

No worries! To avoid the noise caused by dual powers, Gamma Carry comes with easy-to-replace modules. Only 2 simple steps and you can replace the fan or power modules yourself, no technician needed.

*Please note that except for the hard disk tray, power module, and fan module, products with any other mechanical parts disassembled by users are considered as NO warranty.
60W Power Supply

Gamma Carry is equipped with 400W power supply, and thus can steadily provide your laptop with 60W power through Thunderbolt copper cable while you are editing.
Whisper-Quiet Operation

With the fan cooling the system, its operation sound is still less than 45dB—no noise interruption to your work. It is perfect for you to place on the desktop.

Kensington Security Slot

Being extremely easily portable, Gamma Carry comes with an anti-theft design to prevent a five-finger-discount situation. Kick back and relax, your Gamma Carry is safe with Kensington Lock, and so is your data.
SSD Reader

With optional SSD trays or Atomos trays(up to 2), Gamma Carry can transform into a 6-bay or 7-bay RAID system. The built-in reader allows you to quickly transfer your data from standard SSD card or any cards that Atomos tray supports to RAID or vice versa. They are also compatible with 2.5" hard disk.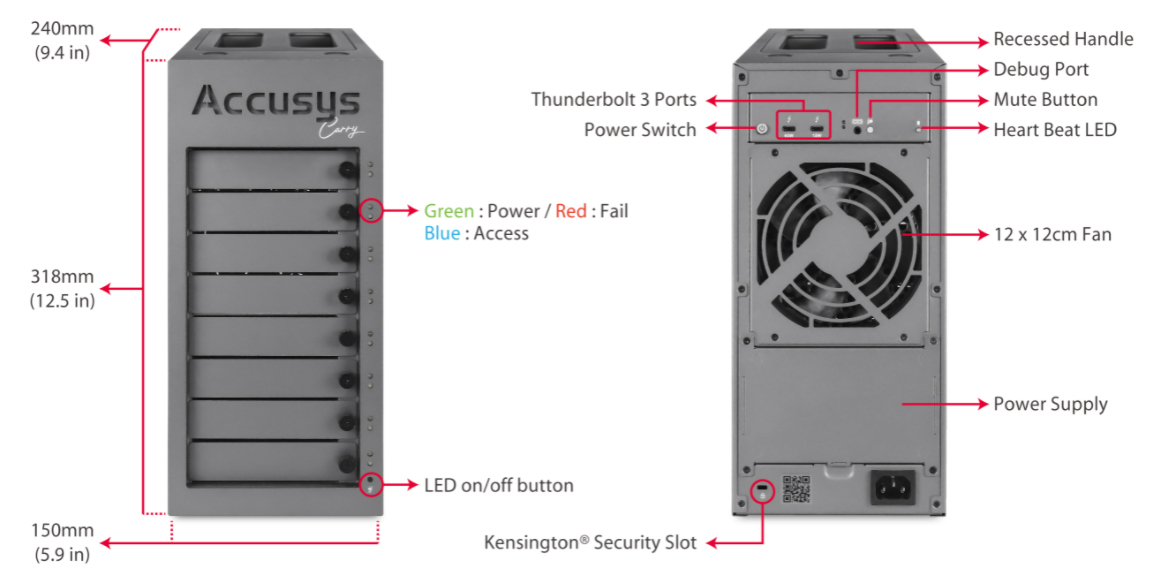 Technical Specifications
System Type
8-bay Tower RAID system
Interface
Thunderbolt 3 * 2
Data Transfer Rate
Thunderbolt 3 : 40 Gb/s
Disk Interface
SAS(12Gb/s)/SATA(6Gb/s) 3.5"/2.5" HDD/SSD
Disk Type
3.5″ / 2.5″ / SSD
RAID Level
0, 1, 5, 6, 0+1(10), JBOD
Cache Memory
2G DDRlll 1866 with ECC-protected
Daisychain
V
LED on/off button
V
SSD Reader
V
60W power supply
V
HDD Positioning Pin
V
Mechanical shock test
250G/2ms
Operating Temperature
0°C ~ 40°C
Storage Temperature
-20°C~ 70°C
Operating Humidity
5% ~ 85%, Non-condensing
Storage Humidity
5% ~ 95%
RAID Controller Functions

Online RAID Set Expansion and RAID LEVEL Migration
Online bad block data recovery and reallocation
Online disk scrubbing with data refresh and parity
Disk health monitorning by S.M.A.R.T
Array Roaming and Drive Traveling
Mirror Snapshot for fast backup and restore
Disk Lag Proof Technology to guarantee disk timely response
Equalization Mode to smooth the performance of sequential I/Os and reduce large fluctuation

Management

Java-based RADIGuard X GUI
Event log saving in text file for quick trobleshooting
Event notification by email (SMTP)
LED indicator for RAID & disk drives status in front
400W (Single or Redundant). 110V~240V power supply
Two 12cm x 12 cm Fan with Smart Fan Control feature

Dimensions
240 x 150 x 318 mm
Weight
6 kg / 13.2 lbs